With the assistance of the Friends of the Gippsland Lakes Parks and Reserves (FOGL) the East Gippsland Art Gallery (EGAG) presented a major exhibition titled Around the Edge with FOGL in May.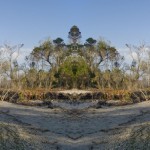 Established local artists working in a range of media were invited to participate in a gallery-based exhibition with works that reflect their inspiration and response to the various environments surrounding the Gippsland Lakes.
Some artists were invited to create specific works at sites identified by FOGL.
Around the Edge with FOGL offered the community an alternative vision of the Lakes and the surrounding Parks and Reserves. It also raised the awareness of the work performed by FOGL and the challenges confronting them.
Funding provided by Parks Victoria from their Healthy Parks, Healthy People funds.